I don't get depressed.
I was depressed for most of this year.
Both of these things are true.
—
I don't get depressed. Except when I do, like everyone does; when I get sad or down or lost in a funk for a while. That's not proper depression, that's not the clinical kind that actually matters and is hard and needs treatment and understanding, the kind many of my friends and loved ones suffer from. I don't dignify my brief, occasional moodiness by calling it 'depression'; I just get into a funk for a bit and then forget about it the next day.
Or, alternatively, fall into a hole for eight months and never realise I'm in it.
—
My own emotions are a bit of a mystery to me. Again, not in any kind of clinical or on-the-spectrum way; I just don't pay too much attention to them. I'm generally either vaguely perky or I'm not, and I'm too focused on external things to be all that attentive to (or even interested in) internal states.
So when I get depressed, I don't usually realise it until afterwards. Which isn't that big a deal when I'm mopey for a couple of hours. When it's 200+ days… that's more complicated.
—
I think we can all agree that 2016 has been a cunt of a year.
Without getting into boring details… yeah, mine too.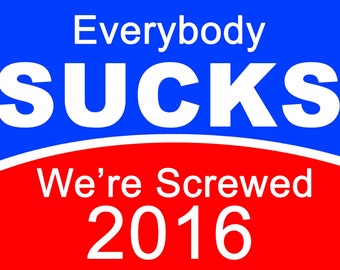 —
There are writers who work best when they're depressed.
I am absolutely not one of them.
I've written pretty much sweet-FA this year.
Guess how that made me feel.
—
Also, it was dark, it was cold, my knee hurt, my back aches, it got really hard to access American Netflix, waaaahhhhhh
—
And then, a couple of days into September, I realised I was in a hole. It suddenly hit me: oh man, I've been depressed all year.
Which was basically the first sign that I'd stopped being depressed – or had, at least, begun the process of ceasing being depressed.
I only become self-aware when I'm chipper. I'm like the world's shittest AI.
—
Maybe you feel like this too.
If you do, it's okay to acknowledge it. It's okay to ask for help. It's okay to forgive yourself.
It's okay to be better at this than I am.
Please, for your sake, be better at this than I am.
—
What's the point of all this fragmentary introspection?
It's to say that it's been a tough year, and that I've not accomplished much. (I wrote about this a while back, when I was still pretty deep into The Funk.) It's become a lot easier for me lately – new job that I enjoy, good times with friends, it's not cold and dark and raining every fucking day – but I'm not entirely out of the hole yet. Most of the way up, yeah, but my legs are still dangling down into the void. Just a little.
So now that I'm aware there's a problem, it's time for me to focus on a little self-care for the rest of the year, to maybe try some of the things Delilah Dawson has talked about as ways to combat depression. And that probably means taking a break from writing – or trying to write, and failing, and getting sad and angry at myself for failing – for a month or two. To build up my strength and energy again, rather than feel sapped and achy whenever I sit down in the Writing Bungalow of a night.
Which also means taking a break from blogging for a month or two. Because none of us need more irregular waffle about stories, wrestling and maybe something I saw on TV.
—
What to do between now and January 2017? Get some exercise. Lose a little weight. Head over to the US for about three weeks with my wife to visit family and see the sights of Portland and San Francisco. Pick up a freaking book and read it, goddamnit (because oh yeah, my ability to concentrate on reading vanishes when I'm depressed). Live a little.
And when I resurface, I have three things on my to-do list:
Shop Raven's Blood around agents until I finally find a home for it and the whole Ghost Raven series. (I've been doing that, but I'll do it better.)
Plot, plan and take the first steps on a new project, the YA wrestling-urban-fantasy series I've been alluding to lately, something I'm currently thinking of as 'The Squared Circle' (name almost guaranteed to change).
Write something short, fun and punchy to get my juices (eww) flowing again.
I think we all know what that last one means. Let me paint you a picture:
The Obituarist III: Delete Your Account
—
And with that – yeah, taking a break. Remembering how all this works again.
I hope I see all y'all on the other side in a couple of months.
Don't let them catch you riding dirty.