Okay, blog time. When did I last write a post? One week ago? Two?
…four? On like the last day of January?
Huh.
I guess that's how blogging works when you have increasingly less and less to say or enlighten people about.
So fine! We're in End-of-Month-Summary-Purgatory, and perhaps one day we will make our way out of it, like jailbreaking ghosts escaping Spirit Prison to at last drink ecto-cooler in the Spirit Paradise hot tub.
Query-go-round
Most of what I've been doing this month, and for the last several months, is talking with agents, and by 'talking with' I mean 'getting form rejection emails from'. That's not the most encouraging or motivating of things, but I keep at it. I've had a few more personal rejections, which are useful and worthwhile, and there are still a couple of people reading manuscripts and considering Raven's Blood.
Do I have any tips for querying? Nothing particularly earth-shattering. I wrote a standard query email with an intro, flavourful high-concept pitch for the book and a super-short bio, and I fine-tune it for every agent I approach. (And based on recent feedback, I include a note that the book uses British punctuation and spelling, so any oddities are probably because I'm foreign, not because I don't know how quotes work.) I keep a spreadsheet of names, agencies, what they're after and how to submit, which I follow to the letter, and I keep track of when things go out and when they come back. As for where I find agents to contact, I'm drawing info from the usual places – AgentQuery, Writer's Digest, WritersMarket etc – and keeping 6-7 queries going at a time.
Most of all, I'm polite. I thank them for their time and attention when I get in contact, and don't take it personally when they knock me back. (Which doesn't really seem like rocket surgery – but still, you'd be surprised how some people get this wrong.) I'm not crawly or fawning or whatever, just pleasant and polite – and while that won't get me special treatment, it won't hurt if/when I come back to those agents with a new project.
Just as soon as I find a home for this one.
13th Age goodies
What's 13th Age? It's a role-playing game that is pretty much like 4E D&D but different in ways that don't really merit a huge amount of wordcount right now. It's pretty cool.
What's also cool is The Forgotten Monk, Greg Stolze's 13th Age novel that he kickstarted back in early 2015. It's the story of an amnesiac kung-fu fantasy detective getting into fights with ghosts, demons and hags in an attempt to learn his backstory and understand mortal morality. It's a damn fine adventure novel, and well worth a read even if you're not into RPGs but like books about magic and superkicks and gnome shenanigans.
What's also, also cool (and the point of this ramble) is that the stretch goals for the Kickstarter were free short stories about some of the minor characters in the novel, written by gaming luminaries Jonathan Tweet, Ron Heinsoo, Gareth Ryder-Hanrahan and I DUNNO SOME RANDOM ASSCLOWN yours truly.
For whatever reason, these stories were written ages back but not released – but now they are! And they're free! And you don't need to have read the book or played the game to make sense of them! WHAT A FREAKIN' DEAL!
If that sounds tempting to you, there are links to download all four stories (in various digital formats) over at Greg's Kickstarter page, no purchase or login required. Mine is called 'Imperial Business' and features a character named Sergeant Dovestrom, who may well be the biggest douchebag in The Forgotten Monk (which is saying something). It's a little bit action, a little bit horror, a little bit fantasy; it's kind of like 'The Old Man and the Sea' except it's about an unpleasant soldier and a flying murderlion and the sparks that fly when they meet.
…that probably makes it sound more romantic than it really is. Sorry.
Other gaming news
Speaking of roleplaying games, man, I sure am doing a lot of that right now. Probably too much, let's be honest.
My urban fantasy game (the one I talked about last time) is kicking along, with two sessions of drama and running through sewers and negotiating with demons – all the traditional stuff. One player is moving to Canada to write video games about space ninjas, so there's some rethinking and tweaking in the near future – but so far, everyone's having a good time.
On the side, I'm also running a short InSpectres game that is turning out even sillier than expected (these ghostbusters also run a pizza restaurant and their cases all seem to involve CHUDs), and organising self-contained Fiasco games in local shops/bars at the end of every month. And now I've signed up to play a game of 5E D&D. Which I'm sure I'll enjoy, even though my heart will always belong to 4E.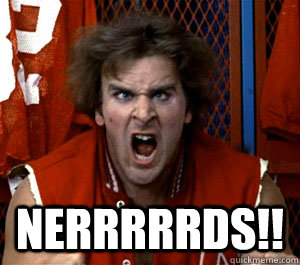 But really. Something's gotta give at some point. I'm starting to dream about dice. And, more pertinently, not getting enough work done.
Congrats to my friends with work ethics
There are people who have been getting work done, though, and I'm proud to call some of them friend, acquaintance, Tweep or at least person-I-keep-meeting-in-festival-bars. So I want to take a moment to call some folks out for being awesome:
Alan Baxter, Kirstyn McDermott, Amie Kaufman, Jay Kristoff, Kim Wilkins and favourite-blog-commentator Dave Versace for their shortlist nominations in this year's Aurealis Awards for Australian spec-fic.
Jay Kristoff (again) and Justine Larbalestier, who are on the longlist for the YA Inky Awards.
Peter Ball and the QWC team for getting this year's GenreCon up and running already! This time I promise not to hog the karaoke mike.
These are good folks. Y'all should read their stuff.
Finally, this month's excuses for not writing enough of Obituarist 3
I was super-busy at work
And I had work travel as well
It was hot
I was tired
New baby (not mine, but nearby)
Anne Gracie got me drunk
Trump
Turnbull
Rain of fire and frogs
END TIMES?!?!?!
Mediocre Playstation games
*sigh* I'm just not, like, feeling it, you know?
I've lost so much blood
[insert image of coffee mug saying World's Worst Everything]
Now, March. I turn 46 in a couple of weeks.
Let's see if I can finish something before I hit 47.