Okay, first up, sorry for going several weeks without a blog post – especially after saying at the start of the year that I was going to try harder about that.
Secondly, the reason that I haven't been blogging is that I've been – shock horror – writing. Specifically a kind of writing that I haven't done in several years. Yes, I'm writing me some RPGs!
Specifically, I'm writing one of several Pathfinder adventures set in the pirate city of Freeport, a city I helped flesh out in Green Ronin's Pirate's Guide to Freeport, to tie into the massive new Pathfinder sourcebook Freeport – The City of Adventure.
I haven't done any RPG writing for years, thought I'd left behind me, but was drawn back into thanks to, well, being asked. The Green Ronin guys are good people, I'm working with some amazing writers and it's a property that I have a bit of emotional attachment to. So I'm trying to put together the best piratical-fantasy-horror adventure I can, and it's taking some time and effort.
But that's not what I want to write about tonight. I want to write about being ambushed by assumptions about tone.
—
See, I'm not a Pathfinder guy. I used to play 3.5E, but that was a long time ago, and for the last few years my fantasy adventure gaming has all been 4E, plus reading a lot of Dungeon World, 13th Age and Fate. So when I sat down to create the encounters in this adventure, that was the paradigm I had in mind and the style I went for.
Guess what? Totally didn't work.
In 4E D&D – and yes, it's a nerdy night tonight, apologies if this is all gibberish to you – this is the model for an 'average' encounter:
4-5 PCs
An equal number of enemies of the same level as the PCs
Minimal attrition of physical resources
An environment with meaningful obstacles and possibly some situational benefits
Magic provides lots of flashy attacks but not that many 'debuffs' or situational benefits
Meanwhile, this is a fairly standard Pathfinder encounter:
4-5 PCs
One enemy with a CR that matches the PCs' level
Notable attrition of physical resources
An environment with no or few meaningful obstacles and situational benefits
Magic provides lots of 'debuffs' or situational benefits but (somewhat) fewer flashy attacks (at lower levels, anyway)
So I would try to put together what I thought would be a straightforward encounter, like the PCs fighting a zombie sea devil press gang inside a burning gunpowder factory (not an actual spoiler) and then realise it was a complete TPK slaughterhouse. More importantly, I'd realise that it didn't feel right in the grander scale – that even if the heroes survived, that encounter would feel out of place compared to what followed, as well as leaving them so banged up and short on resources that they'd all succumb to Queen Hagfish's octopus buccaneers right away (also not a spoiler, although damn, maybe I should be writing that plot instead).
And some things are more subtle. For instance, 4E NPCs aren't built like PCs, so you can give them any abilities or qualities you like (although you should try to balance them) and the game just rolls along. Pathfinder NPCs are built like PCs, and you generally need to both define them in meticulous detail and be able to justify – both mechanically and from a story perspective – any deviation from the player-accessible pool of options. 4E games involve encountering a lot of unique entities; Pathfinder games involve encountering a lot of people who are just like you, and may be worth robbing for that +1 sword they're showing off. All of which changes the tenor (and mechanical impact) of scenes and relationships.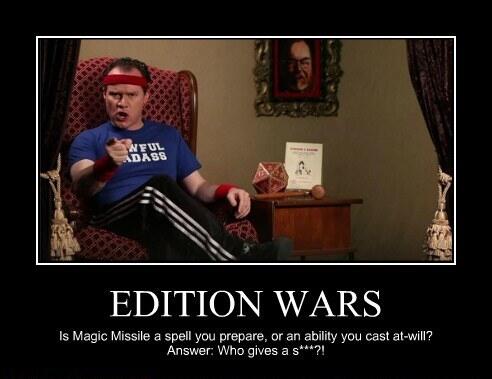 None of this is 'good' or 'bad', and I'm not here for a D&D edition war. What this boils down to is that I had to stop working and think things through from the beginning, and take my ideas  in a different and more appropriate direction for how this story was meant to work. You could call this a genre or sub-genre distinction, but that's a blunt and clumsy tool and not helpful. Whether heroes are fighting one guy or five, throwing infinite fire bolts or drawing charges from a wand of magic missile, using encounter powers or 3/day spell-like abilities, it's all still 'heroic fantasy', and the difference between that and 'high fantasy' or even 'sword and sorcery fantasy' are truthfully kind of minor.
No, for me this was all about tone; whether the style of encounters, plotlines and interactions I wanted to produce were right for the overall story I'd been asked to create.
Tone is partially about language and voice – horror stories work because they use spooky words and gloomy images – but that's the only mechanism, and more importantly that's a mechanism of story-telling and not story construction (and RPG adventure writing is all about you constructing and someone else telling). When you get into the meat  of building a story, I think tone relies on two major building blocks:
Situation: Is an appropriate fight scene a one-on-one battle or a struggle against overwhelming odds? Do the heroes get a chance to plan or are they just suddenly thrown into chaos and riot? Can they draw upon reliable and effective resources (magic, weapons, tools etc) or are their resources capricious and difficult to use? Is the location as important/distinctive as those within it? Does this scene make sense?
Outcome: Who wins a five-against-one fight – can a hero prevail against overwhelming odds, or a team prevail against a crazy-powerful uber-baddie? Who wins a five-on-five fight? Did magic provide an I-WIN button or was it just one element in determining the victor? Is the winner scratched and bruised or bleeding from wounds that could be fatal? What happens next?
(And of course, those situations and outcomes don't have to be all about fighting; I just frame it that way 'cos I like stories about punching. Social situations, clever heists, romantic moments, times of introspection, hotsexytimes – the principle applies across the board.) And this is true whether you're creating a playground for 3-5 players to randomly set fire to things, or writing a 90K novel about young badgers in love.
So when setting a tone for your story – oh yeah, here's the point of this post after 1000 words about pirate orc wizards – these are the two questions you need ask when setting scenes – 'is this something that makes sense in my story?' and 'did that end in a way that makes sense in my story?'. As long as you can say yes to both of those, you're golden.
Now, if you want to stay golden, you either need to stay tonally consistent for the duration of the narrative, or clearly signpost the degree to which the tone is changing as the story progresses, but that's a post for another night. Maybe. Look, my deadline is in three weeks and I need to iron all the kinks out of this adventure before the heroes have to blow up a haunted house in order to stop Cthulhu from plundering Davy Jones' Locker.
Or something like that.
Anyway kids, eat right, stay in school, back soon.