Okay, and we're back with the second instalment of this series looking at the stories (and fun!) that come out of Dungeons & Dragons and other fantasy role-playing games that you can play with friends over Zoom or whatever as the world crumbles away outside.
A reminder – this series is aimed at folks, especially writers and storytellers, who are interested in getting into D&D but don't have much experience in playing/running RPGs. If you know such a person, tell them about these posts!
The D&D story revisited
Role-playing games are (to my mind at least) collaboratively creating and telling a story.
I said in my last post that D&D primarily creates a particular style of story – action-adventure fantasy stories about larger-than-life characters solving problems by going to dangerous locations and defeating antagonists.
In hindsight, I should have unpacked 'action-adventure' as an aspect of tone. The tone of modern D&D is less like The Lord of the Rings (the books) and more like The Lord of the Rings (the movies), and probably even more like The Hobbit (the movies, I'm sorry). Battles and physical action are the main theatre of conflict, but that action is neither cartoonish and slight or grim and heavy.
(Tone is one of the biggest points of variation amongst fantasy games, to the point where I can't really pull it out as a separate topic and instead touch on it throughout this post.)
Anyway – if you like these kind of stories, and already own some D&D books, you're good to go! If you want to try something else, let's discuss this (very much non-exhaustive) selection of alternative fantasy games and the stories they create.
(A quick aside – Some of these games are available in print, while others are ebook only. That's how publishing works now. I'll give links where I can and you can dig into formats if anything catches your eye.)
The same but cheaper
The first works in any medium tend to set expectations and shape responses – that's why so many 'Golden Age' sci-fi stories are fuckin' racist – and gaming is no different. D&D kicked it all off, and 50-ish years later, there's still a strong 'this is what RPGs are meant to be' school of thought.
These games were all written by D&D designers, feel pretty much like D&D, have rules about as complex as D&D's, and create stories that fit squarely into the D&D oeuvre. Except gamers won't spend D&D money on games that aren't called D&D, so these games all come as thick standalone books that don't cost 200 bucks.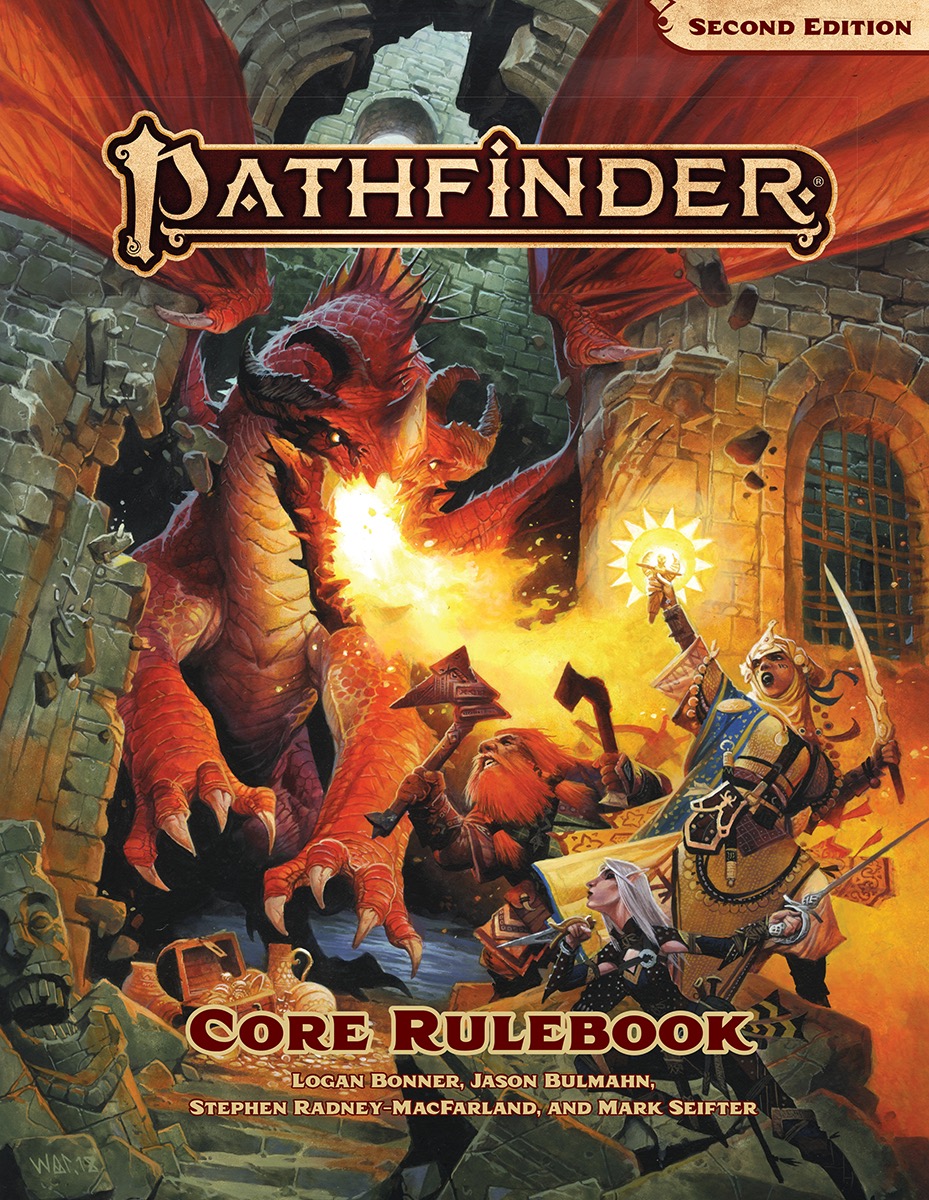 Pathfinder: In fact, this game was once D&D! Specifically, it's a light reworking of D&D v3.5, made as a competitor product because a very noisy segment of the market hated D&D v4. Over time, it evolved to become… still exactly the same as D&D, but with a fanbase who will tell you it's totally different. Pathfinder ain't for me (even though I wrote an adventure for it), but if you like granular detail, high production values and long, epic adventures (that you will probably read but never run), give it a look.
Fantasy Age: While its rules are a bit simpler, this game's style, tone and stories are solidly in the D&D wheelhouse. I'm personally more interested in its two sister games – Dragon Age (based on the video game) and Blue Rose ('romantic fantasy' ala Mercedes Lackey) as they have more distinctive tones – but Fantasy Age is solid. Also, a new edition is coming that uses the Freeport pirate-fantasy setting as its base; I helped develop that setting and can thus objectively say that this will be the greatest work of art ever crafted by human hand. Probably.
Shadow of the Demon Lord: This game takes the perennial RPG question 'can my wizard cast a spell to make the orc shit himself to death?' and runs with it. Like a Cradle of Filth song, this game walks the line between scary grossness and fun-to-laugh-at-grossness, and bluntly does a better job of it.While Shadow presents a big tonal shift, with lots of horror elements and black metal guitar riffs, it fully supports D&D-style stories.
Numenera: Some people believe that 'fantasy' and 'science fantasy' are meaningfully distinct genres. Some people will believe anything. Numenera presents itself as different and innovative, but the stories it encourages are just like those of D&D except with 'nanotechnology!' <jazz hands> instead of magic. Honestly, I don't much care for it, but I know folks who find a lot of value in its tweaks to tone and flavour, and you might also be one of them.
Problem children
Let's move on to games that depart from the established story template. Are there fantasy games that don't revolve around solving problems?
…yes, but not that many. Problems and obstacles are great ways to present conflict, and we all accept that conflict is the foundation of all good stories. (Although Ursula le Guin disagreed, because she was smarter and wiser than other writers.) Also, fantasy is a genre that strongly pushes problem-solving as a trope because it means characters engage with the external world, and the point of fantasy is to present and explore an imagined world that clearly differs from our own.
Instead, fantasy games mostly differ in the types of problems they present. D&D problems tend to be 'monster threatens to disrupt the status quo in awful ways, please sword it to death.' What else is there?
Forbidden Lands: This Swedish game focuses around exploring the unknown as its main external challenge, generating stories about survival and discovery rather than heroism and fighting monsters – or at least, fighting monsters for the sake of helping others. It also has a grimy, Nordic prog rock feel to it that's kinda fun.
Spire: This is a deconstructionist weird fantasy game about dark elf revolutionaries in a skyscraper, and somehow manages to make that concept not just work but sing. While its mission-based playstyle still throws challenges at players, those challenges are about overthrowing the status quo rather than defending it, generating stories about sacrifice, politics and change. It's a bloody lovely game, this one.
Blades in the Dark: If D&D is an action movie, Blades is a heist film. It's about criminal gangs in a haunted electropunk Edwardian city – interesting how far we're drifting from elves and Hobbiton – and the core challenge is committing crimes and intrigues. And if you play long enough to build up momentum, these flip from external challenges (get hired to steal a thing) to internal ones (decide how/where to extend your criminal empire). That's a really interesting story progression, and part of what makes Blades' long game compelling.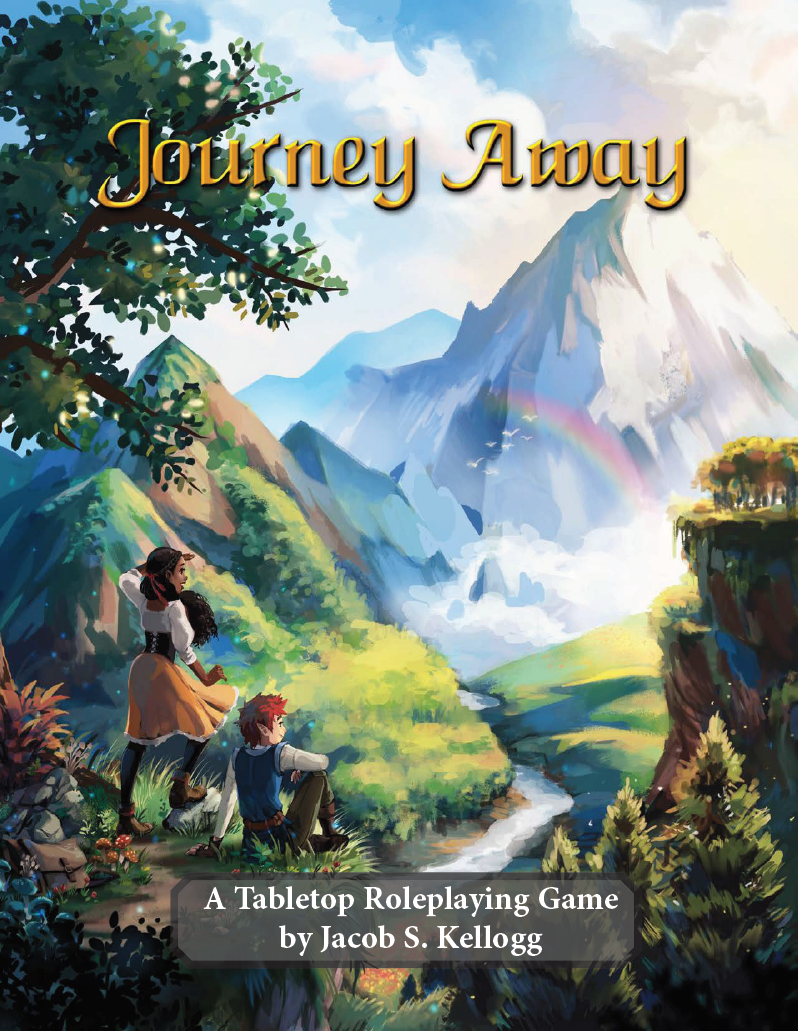 …but still, these games are all about external action. Where are the games about interiority and emotion? Turns out they're largely on itch.io, where young designers with fresh ideas about games as both a medium and an industry are publishing innovative, passionate games about the personal stories that interest them. I'm still exploring the games here, but one that leapt out at me is Journey Away, a game about young people exploring their magical world, finding wonderful things and getting to know each other. It's smart, positive and family-friendly, and generates stories about discovery and friendship in which external conflicts are largely incidental. I want to see more games like this, I want to play more games like this, and given the state of 2020, I want to believe in more stories like this.
---
There are more D&D-ish story elements and alternatives to discuss, but this post's gone on far too long already.
Come back in a couple of weeks and let's get stuck into character, complexity and maybe even which monsters to beat up.