I don't remember my past all that well, so I can't put my finger on exactly when I read The Wasp Factory. It was written in 1984, when I was 13, but there's no chance that anything so transgressive and disrespectful would have been in any libraries in my old home town. So it must have been after I moved to Brisbane, when I was 18 or 19. That sounds right, that feels right; that's the right age for having Iain Banks blast out the back of your head for the first time.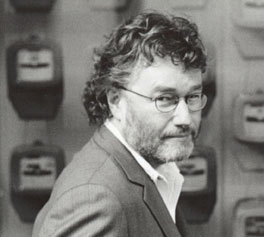 At age 19 I also lived and breathed science fiction, so I imagine I would have immediately read Consider Phlebas, although that memory is still vague. I do recall reading The Player of Games and The Bridge at around age 20, and not liking either of them as much as the other two but still thinking they were pretty damn cool.
Then I read The Crow Road and Use of Weapons as they were published, and that was it – I was an Iain Banks fan, whether he was writing mainstream or science fiction, whether he had an M in his name or not.
And now Iain Banks is dead, cut down by gall bladder cancer this last weekend, two too-short months after publicly announcing his illness.
—
Others have done fine duty eulogising Banks, such as Kieron Gillen and the UK Telegraph; io9 has a good essay on the lessons writers (especially SF writers) can take from his work. But I don't want to eulogise and I don't want to think like a writer; I want to think like a reader. My memories can be like fog, but when I think about Banks' work the fog clears; I may not recall when/where I read them, but I remember all that I got from his books as a young man.
I remember marvelling at the forward-backwards progression of Use of Weapons that spiralled into the horrific darkness at its heart.
I remember the final goodbye of The Crow Road and how I kept coming back to that book as my relationships came together and fell apart.
I remember reading the Eliot quotes in Consider Phlebas and thinking that I had to read more of this guy's poetry at some point.
I remember cruising through three out of every four chapters in Feersum Endjinn and then grinding to a halt on the fourth, slowly working my way through the phonetic, accented prose – but being drawn in by that effort rather than thrown from the story.
I remember hitting that scene in The Wasp Factory and putting the book to one side, needing to walk it off for a while – and then coming back to see if he could top it. And he did.
I remember pressing his books on friends saying you've got to read this, and then them coming back saying holy crap, do you have any more of his stuff? And I did. I always did.
I remember my 20s in music, in beats, in dance floors – and in Banks novels, the prose soundtrack for my life.
And memories like that are all readers can ever hope to be granted by an author.
—
I didn't like Banks' later work as much as his earlier books; I started to drift away around the time of Look to Windward and Dead Air. But that was my fault, not his; I stopped resonating with the themes and ideas he wanted to talk about, and he was determined to write what he wanted rather than what I (or anyone else) wanted to read. To write honestly, and snarkily, and passionately about what he thought was important; about visions of the best and worst we could be.
He wrote as he would. He lived as he would. And we were fortunate for it.
But not any more.
He's away the crow road now.