Last week I started talking about Guild Wars 2, not because it's a fun game (it is) but because it's an interesting object lesson in the use of storytelling techniques. I wrote about 1300 words about that, and I can only assume that I stunned all of you into silence with my brilliance 'cos no-one offered even a single comment on it. Should I ask someone to rewrite my essay?
Well, prepared to be driven permanently mute as I continue to write even more on the topic of story, character and high-level armour drops!
(Also, this was meant to be finished and posted on Sunday night, but the Comedy Festival is chewing up my time and spitting out minutes and limbs.)
(And they're not even my limbs. Not sure where they come from. Damned creepy, really.)
Choices matter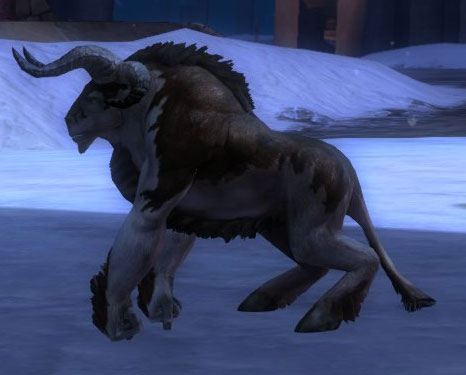 Throughout your personal story in GW2 you get called on to choose between two or three courses of action, which dictate what the next chunk of narrative will be. That's excellent game design because it actively engages the player, making them feel that they're an active participant in the story – even though some choices are weighted pretty heavily towards one more interesting option. ("Well, you could disguise yourself as a minotaur or do LAH LAH LAH NOT LISTENING HAND ME THE HORNS AND SUPERGLUE.") In fiction you get that engagement by presenting the main character – the reader's window into the story – with choices to make. Make your main character an active participant in their own story and the reader will follow suit.
…even when they don't
On the other hand, choices need to be meaningful, and the ones in GW2 aren't. Sure, they determine which mission you tackle next, but the end point of that mission lines you up to the pre-determined outcome and next stage the same as the alternative would. The game has a path, and your choices just determine which bits of scenery you set fire to along the way. In a story, choices need to be genuine decision points that shape outcomes and have permanent consequences, or else there's no point writing about them. And as part of that, some of the most interesting decisions are the bad ones, the ones that don't work out and push the story further into conflict. Go crazy with those.
Voice defines character
A key element of GW2 is that your character speaks, generally in conversational cut scenes – and the most important part of that is that your character develops a distinct voice. No, not voice acting, but a style and tone all their own, from the patient Sylvari to the belligerent Charr to the egotistical Norn. Each character expresses personality through their words as well as their deeds, and that's vital for any kind of fiction as well. It's also something you notice when it falls away, as it does in GW2 as multiple plot directions collapse into one, taking with them your character's distinct voice – so don't do that. Maintain character voice, even when the plot takes the character in a new direction.
At this point, I feel I should show you my character. His name is Cadmus and he is a Sylvari Guardian and he is level 80 and he fights with a sword and torch and he made all his own armour and he is very awesome and okay I'll shut up now PS he is boss.
Fuck lore
I blame Bioware for the trend of emphasising the rich, detailed backstory of their game worlds by littering their games with infodumps and books/scrolls/datapads that you find and reach and squint at instead of actually playing the game. GW2 has plenty of backstory, but rarely stops to tell you about it – it shows you, usually by sending you on missions where history pops up, says hello and stabs you in the face. Short on exposition and long on action/character, GW2's history leeches into you by osmosis rather than study, and that is a fine lesson to bring to your fiction. Stay focused in the here and now, let your characters discover history organically, and throw out just enough to provide context before moving on.
Genre is a big tent
If you're looking for purist, traditional fantasy, GW2 is not for you. This is a world featuring giant Vikings, inquisitive plant-people, horned cat-folk undergoing an industrial revolution and a race of freckled gnomish mad scientists with robots and lasers. Add to that pistols, aqualungs, airships, battle armour, dozens of sentient races (most of them bad), anachronisms aplenty and wide swathes of horror and you get a take on fantasy that is anything but traditional. And that's a good thing. Genre is vast, it contains multitudes, and purity is past its use-by date. Never feel hemmed in by what a genre is 'supposed' to contain – put in the things you want to include and the genre will swell to fit.
A consistent tone? What's that?
Mind you, the problem with a big tent is that you might fill it with boxes, open them all at once and find that they don't play well together. GW2 tries to present a series, often tragic tone within its main storyline, especially in the third act, but then destabilises that by getting you to enter an 8-bit computer game or fight the terrible Marxist-Leninist mole people in various pun-based locations. It's hard to have feels when giggles are just a few minutes behind, and hard to maintain a tone of desperate urgency when you can just wander off and ignore the plot for a week while you gather armour bits. Any idea can be serious or silly, calm or critical depending on how you treat it, so long as you pick a tone early on and stick with it. If you're going to be a purist anywhere in your own work, it should be tone – find your level ASAP and stay there to the end.
Pictures are worth a thousand etcetera
The visual world of GW2 is both rich and very carefully crafted, so that whenever you look around you know where you are. Every location has its own feel, from the sedate human kingdoms to the once-drowned-now-risen wastelands of Orr. Architecture is similarly distinct – you instantly know the cubic, gravity-defying ziggurats of the Asura from the dark satanic mills of the Charr and the re-purposed shipwreck-buildings of Lion's Arch. Making everything distinct means that everything has instantly-identifiable flavour, embedding players in the world. Writers don't get to play with visuals (well, most of us don't), but we have other tools – word choices, prose rhythm, dialect, adjectives and more. Just as you give every character a voice, try to give every location and scene its own voice too; it makes the stories within them all the richer.
Exploration isn't necessarily story
That said, if all you're doing is looking at the scenery or exploring the intricacies of how the Shamu-Shamu people make purple whaleskin booties, your story isn't going anywhere. GW2 encourages exploration with various tools, including the thrill of discovery and the lure of XP and treasure drops, but the story gets put on hold while you check out the landscape. Do you want to put your story on hold while people are actually, you know, reading your story? I thought not. As with lore, position the rich tapestry of your world front and centre by making characters run right through it, showing its colours and complexity for a second and then getting on with things. Story is movement. Always keep moving.
—
I could probably come up with half-a-dozen more object lessons, but it's late and this essay is already long enough.
Let's close by saying this. There was a time where prose was the Only Important Way of telling stories. That time is the distant past. These days there are lots of ways of getting a story into the reader's head and heart, from games to graphic novels to epic poetry to multi-part interactive fiction experiments on Twitter. I've been talking about Guild Wars 2, but I could have drawn similar lessons from pretty much game, any movie, any (mostly) well-crafted piece of storytelling.
Everything you take in can teach you how to tell stories, whether by example or as a don't-do-this object lesson. Keep your eyes peeled and your mind open, and you can learn from any of them. All of them. And make your stories better in the process.
Also, I'm patrickoduffy.3067 on Jade Quarry server, looking for groups to tackle the lower-level dungeons and maybe a guild to join. Send me a tell. I've got your back.