I'm not good at dialogue.
There, I said it. Although not as well as other authors would.
Anyway, I've struggled with dialogue ever since I started writing, and because of that I keep writing it, because if I leave it alone I'll never get better at it.  I'm still not great with it, but I have learned something from my mistakes, and in the spirit of sharing, education and group hugging, I've got a list of five lessons here for your edification.
Lesson Zero, of course, is never to use the word 'edification' in your dialogue. Ahem.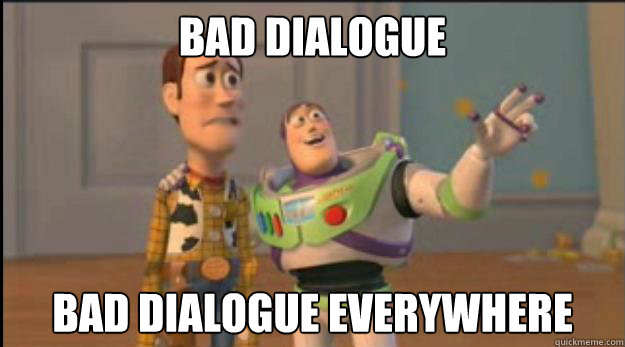 Realistic dialogue isn't interesting; interesting dialogue isn't realistic
You know how normal people speak? We errm and ahh and mumble, we pause for breathe at inconvenient times, we repeat ourselves, we start every sentence with 'Um, actually', we repeat ourselves… all of these things are genuine and realistic ways of portraying human speech. And they are boring as shit to read. Worse than boring, they're irritating; they're like little clusters of birdshit clogging up the page and stopping the reader getting to the part of the dialogue that's actually entertaining or that carries the story.
My big sin here was starting most of Kendall's dialogue in The Obituarist with 'Well,'. I had reasons – sometimes it showed that he's thinking up what he says as he says it, sometimes it let me negate or undercut what someone else had said, but mostly I did it because that's how people speak. Okay, that's how I speak. Fortunately, my editor pulled me up on that and made me take it out, and the book is the stronger for it.
The dialogue that sticks in your memory or powerfully depicts character isn't the realistic stuff, it's the dialogue that you wish actual human beings would speak. No-one swears like Chuck Wendig's Miriam Black or gibbers like Hunter S. Thompson's Doctor Gonzo, but those characters (and other like them) have a voice that stays with the reader and draws them into the story. Their artificiality is engaging; they remind us that we're reading fiction and are allowed to stretch our imaginations. Even realistic, character-based narratives benefit from interestingly unrealistic dialogue, because you can use the conceit of the voice as a counterpoint to the groundedness of the characters and story.
So cut out the umms and skip the tonal padding; crazy moon-talk puts bums on seats.
Small talk equals bore talk
The other thing real people do is talk about things that don't matter that much – the weather, what we did on the weekend, the proud/shameful acts of Local Sports Team #7 and so on. This is normal and it serves a purpose; it's a way of setting up a shared space in which we can then be comfortable talking about more important things. Small talk is a social safety net.
But small talk in a narrative needs to be bludgeoned to death and thrown in a lime pit; it's boring, and worse than that it doesn't move the plot along. I'm not saying every single word in your story needs to be 100% vital, but it should play some purpose for the reader; small talk only plays a purpose for the characters, and they don't need to feel safe because they're not real. I made this mistake in some of my early Hunter RPG writing, which was presented as in-character material like tape recordings. I used small talk and chit-chat to give context, but the material didn't need it; again, my editor removed the worst excesses and set me straight.
Along these lines, the best point to come into a dialogue scene is after it's started, not just after the chit-chat but just as/after someone said the most vital/heinous/meaningful thing. The best place to leave the scene is as soon as possible, just after the important stuff's been said and people have started reacting to it and someone somewhere is going to throw a punch or have a baby or both at the same time. Jump right in, jump right out, hit it and split it – because you grab the reader at the height of their engagement in what's happening and then transfer that energy to the next phase of the story. Make them do the work for once. Lazy buggers.
Dialogue isn't action
When you jump in late and out early from a dialogue scene, you bookend the talking with action – and this is important, because talking isn't action. And I don't just mean it's not a fist fight or a car chase, I mean it's not an avenue by which things happen; dialogue is not the place where things change. It often comes just before that change, of course, and might be the impetus for that change – but the change is still what characters do, not what they say, even in the most internally-focused story.
There are two parts to this lesson. The obvious one is not to make dialogue the resolution of a story or plotline; don't end the scene with people just talking and then move on. That leaves the reader hanging and wondering what actually happens next, and not in a good way; it's all windup and no payoff. Even if the aftermath of dialogue is just a person walking out of the room, that can still pack a punch; the words have an effect and the situation/person has changed.  So long as the action is tethered to the dialogue in a meaningful way, the transition will be satisfying.
The second part is that, since dialogue isn't action, you may want to include some action in the scene to keep the energy levels up. Two people sitting and talking can be riveting on stage, but in print it's just line after line of he said/she said, and visual monotony can creep in. To avoid that, have characters move around and do things – drink wine, kick chairs, shoot ninjas, whatever. You can reinforce talk and action by having them be different aspects of the same thing; alternatively, you can have people do one thing while saying another, arguing about custody rights while operating killer drones on a cyber-battlefield. That contrast builds a dissonant tension if you do it right, and maybe lets you sneak in metaphorical parallels if you're one of those writers who is smarter than me.
Dialogue is sorta kinda like action
Okay, I lied. There is one way that dialogue is like action, and that's pacing. Just as an action scene can catch the reader and propel them breathless through the chapter, so too can quick back-and-forth banter. Hell, you don't even need that; any dialogue that's reasonably snappy will speed readers through a scene, if only because there are fewer words on the page. That's the mechanistic element that's easy to forget; dialogue reads fast, and talking chews up pagecount more than description.
On the flip side, if you want to slow the pace down, you can do that with dialogue too. A slow, thoughtful conversation where characters speak in paragraphs rather than sentences can take up more mental space for the reader than anything else, because we're less likely to skip through dialogue looking for pertinent information, which we'll often do with description. That said, this is tricky, because slow, thoughtful conversations are often kind of boring. So maybe don't do this too often; better to intersperse dialogue with description or (yet again) action for a speed-up-slow-down-push-me-pull-you rhythm.
This also means that if you write a book with no dialogue, minimal dialogue, or that gets away from the quotation mark style of speech to something more abstract – which is what I did with Hotel Flamingo – you lose a major pacing mechanism from your writer's toolbox. If you're a good writer, you can make do without it – but be aware of what you're giving up before you start, lest you get halfway through and realise you need it after all.
Give major characters a distinctive voice, but not an accent, because accents are bullshit
Some advice manuals say to give every character a distinct voice, but I say that's not necessary. Sometimes it's okay for a minor character to sound like another minor character, as long as they're in separate scenes. Making everyone unique is a) hard, b) unnecessary, c) potentially overwhelming for the reader who has to juggle all these voices in their head.
But for major or recurring characters, it's really good to give them a signature of some kind, a mannerism or style that tags them in the reader's memory and reinforces personality. I used a few of these in The Obituarist, such as Samosa's habit of saying 'bro' or Grayson's snarky politeness, and I think I pulled those off pretty well. A specific inflection, a occasionally-used phrase, a tendency to inflect every statement like a question; little things say a lot and make them memorable.
A little goes a long way, mind you. D-Block's vocal mannerisms in The Obituarist go too far, and looking back I wish I'd cut them down by about 50%. That would still have given him a unique voice, been less wearying to read, and might have said more about his character by implying that it was a deliberate affectation, rather than just being 'street'.
Accents, though, are the work of Satan; they are the leavings of Mephistopheles' slush pile. Unless you are Irvine Welsh and plan to your whole novel in dialect – and if you are Irvine Welsh, mate, thanks a lot for Trainspotting – then accents are just trying too fucking hard and making your character vomit unreadable chains of gibberletters onto the page that the reader has to decipher every damn time until eventually they give up and go back to the TV, where at least the accents might have subtitles.
Comics are so very, very bad for this. We've suffered through like thirty years of Chris Claremont sticking an indeterminate Southern accent on Rogue, whose drawl has stretched so far that it's hard to tell whether she's just a Foghorn Leghorn caricature of a real Mississippian or whether the poor girl has an acquired brain injury from all those times she got punched in the head by the Juggernaut.
Of course she hooked up with Gambit. It's like duelling diphthongs down at the Crossroads.
Accents drown out the meaning and the tone of dialogue, overwhelming the flavour like rancid cheese oozing all over a subtle lemon sorbet. They're cheap, they're stupid, they're distracting and they're clumsy. And if you're using them to communicate a character's cultural or ethnic background, well, then they may even be kinda racist. Or not even kinda.
So don't use 'em, bro.
—
Folks, this has been a collection of five things I've learned as a reader and a writer. I hope you found them useful. If you did, please say so – if enough people enjoyed this I may do another set on a different topic in future. And if you disagree on any point, possibly because you are Chris Claremont – and if so, Chris, what was up with putting all the female X-characters in bondage outfits time after time? – then you should also leave a comment and say so.
We could start a dialogue OH SNAP YOU SEE WHAT I DID THERE