So a month ago I came back from GenreCon all fired up with big ideas and focused ambitions. No more writing at random! I was going to GET SERIOUS. I was going to follow a PLAN. I was going to put together AN OUTLINE and then probably FOLLOW IT.
I mean, this was some GROWN-UP SHIT, MOFOS.
So how did that work out?
Well.
Or as TS Eliot put it:
Between the idea
And the reality
Between the motion
And the act
Falls the Shadow
I had a lot of big ideas and ambitions, but in the end my mouth was writing cheques that my arse couldn't cash, and that's a metaphor you probably didn't need and I'm sorry.
See, here's the thing: you need to do more than say 'I need a plan'. You actually have to make a plan and follow it, which is the point where I've come unstuck. Instead I've been sitting at the computer most nights, saying 'I think plans are swell!' and then smacking my face into the keyboard in the hopes that it would somehow turn into a 6-figure advance for Raven's Bones.
End result: I've written like a page and a half. And the half is shaky.
It turns out wanting a plan isn't enough; you actually have to create and follow one for it to work. Which is, god, so hard you guys. That requires actual planning and thinking instead of just pie-in-the-sky tweeting and six hours of Saints Row IV.
At this point I should probably say 'failing to plan is planning to fail' but uuuggghhh *makes jerk-off motion* no thanks. That's a bridge too far.
Look, I meant well. I still believe that I need to have a coherent plan and direction for my work. I need to have structures, processes, benchmarks; I need to treat this like a job, because that's what it is. And I totally intended to follow up on that.
The key thing is, good intentions don't count for shit.
Right now, I don't have the time or energy for much more than good intentions. Between a demanding day job, Brisbane-style summertime (WTF MELBOURNE) and a shameful need to interact with other people on a regular basis, I don't have enough in the tank most nights for more than a few hundred words – hell, a few dozen. I want to treat writing like work – and sometimes work is hard. Harder than I can manage.
So what's the alternative? What can I do with what I do have in the tank (we're just shitting the bed on metaphors tonight, sorry) and where can good intentions actually be useful?
The answer, I think, is preparation. And making December into a month where I actually prepare, organise and yes, even plan for a better 2016. One free from false starts, self-recrimination and flesh-eating viruses.
December is when I'll spend time genuinely planning this book like a proper project, with milestones, metrics and timelines. (I've taken the advice of several friends and started reading Todd Henry's The Accidental Creative, which is apparently good for this sort of thing.)  December is when I'll write more world-building notes – time to flesh out the Lunar Pantheon, name more districts and neighbourhoods of Crosswater, update my maps and character sketches and setting history. And December is when I'll fine tune my outline, do more research and kick the kinks out of my plot. (All this and Christmas too.)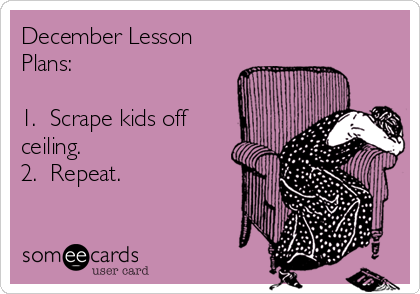 These things don't need to be polished, they don't need to be understandable to others, they don't even need to be 'good'. They just need to work. And as a long-time GM, I know all about making shaky, unintelligible, borderline-incoherent notes that nonetheless are enough to maintain a campaign for months or even years.
So there's something for y'all to look forward to when this book finishes.
And with that, enough self-flagellation; I need bacon and sleep.
Not at the same time.