***insert gross sneezing noises***
Oh, hello there. Don't mind me, I'm just plague-ridden and exhausted. You know, when I was younger (and not that much younger either) I'd use the Easter weekend as a chance to party as hard as I possibly could and hit up a string of raves, festivals, house parties and BBQs before collapsing on Monday and sleeping for 20 hours.
Now, at age 41, I've spent the four-day weekend writing, cleaning and sniffling. Goodbye, rock and roll.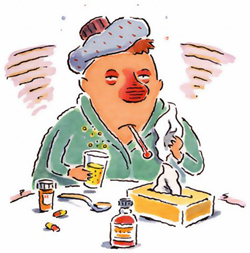 But hey, I'm getting stuff done, which is good. The Obituarist continues apace and I'm on target to finish this draft by next weekend, at which point it goes out to the editor and for feedback from my readers. Plus I have a line on a designer to approach regarding the cover, which I'll do during the review/editing window. All of which makes me feel super-organised and not at all like a shut-in drinking bad coffee and wearing trackpants all day.
I've also been out to some Comedy Festival shows; you can see my reviews of Tessa Waters, Dingo & Wolf and Daniel Burt on The Pun, along with reviews of many other shows. I also saw Damian Callinan, who was terrific, and would recommend The Peer Revue except that it's already finished its run.
—
I don't have much else to talk about at the moment, but rather than cut things short right there, I wanted to drop a few links to other blogs, events and postings that are worth your time and eyeballs.
Alright, that's enough out of me for the night. Next update should hopefully just say FINISHED in eleventy-hundred-point type above a picture of a coffin.