Lately I've been thinking a lot about Superman, and specifically thinking about how to write Superman stories.
Which, let me be clear, is not something I tend to do very often. I am Batman-man, after all, and while I've always been perfectly happy that Superman exists I've rarely been all that interested in reading about him. Good character, but not my favourite.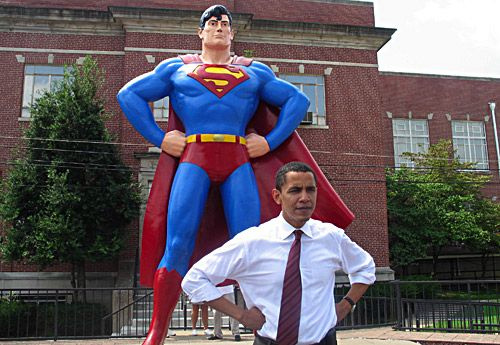 But the last few years have seen Superman appear in many stories that get the character very wrong, and these things irritate me when I read them. Worse, those wrongheaded approaches get enshrined into continuity as 'definitive' stories and interpretations, and the stories that follow take their cues from these flawed sources.
And now we have a belligerent, 'edgy' Superman who is alienated from humanity, quick to lash out in anger and willing to dismember and decapitate his enemies. Yes, that actually happened in the new Justice League title, because what we'd always wanted to see was the world's greatest hero tear aliens into bloody shreds. Kids love it!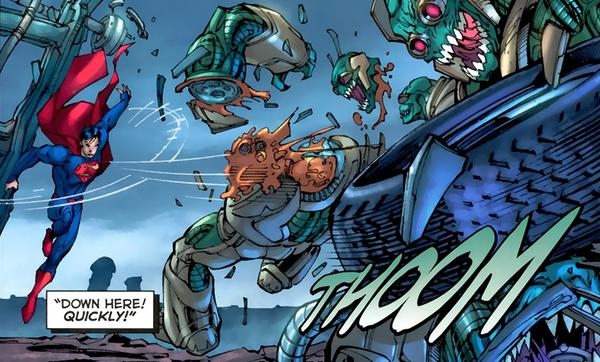 Everything about this is terrible. EVERYTHING.
So I feel the urge to pontificate on how to write Superman. Which is not difficult, despite what people say – hell, it's so simple that even a schmuck who has no comics writing experience whatsoever can see it. Because there is an elemental purity to Superman, the first and most important superhero, and that purity shines through like yellow sunlight through green fog.
Many of the changes seem to come from the oft-repeated 'conventional wisdom' that Superman is a hard character to write, or to relate to, for two reasons:
His enormous physical power makes it difficult to challenge him
His morality is simplistic and makes him emotionally uninteresting
The interesting thing about these arguments is that they are both stupid – or, more precisely, both backwards. They position the two greatest opportunities in writing the character as problems. They are Bizarro reasons that am make perfect sense me am love eating ground glass.
Here's the thing about 'challenging' characters – that's not how writing a story works. Writers don't 'challenge' characters, because the setup and the outcome of the story (or scene) are determined by the writer in the first place. There's no challenge, there's no uncertainty, there's no rolling dice to see if the hero or villain win this month. Instead, you need to approach things in terms of conflict.
What are the stakes? What are the conditions? What does the character want? What can/will they do to achieve it? What do they need to overcome? What are the consequences of success and/or failure? These are the fundamental questions a writer needs to consider, and they are the questions that shape stories – and that determine what kind of stories work for a character.
So when someone talks about Superman being 'too powerful', that speaks to a problem with the stakes and conditions, not the character itself. A story about Superman catching a car thief isn't going to work because the stakes and the consequences don't match the character, not because he's 'too powerful'. And anyway, we've seen that story before, right?
Instead of a problem, think of Superman's abilities as an opportunity. Superman's physical power does not exist to let him overcome conflicts, it exists to allow him to engage in conflicts – the more amazing and over-the-top the better. His power level allows you to open up immense conceptual space and come up with magnificently impossible situations. Suns should be exploding, continents should be liquefying  dimensions should be tearing asunder. You have a chance to make up something amazing when you write Superman – do that, rather than, I dunno, have him walk slowly across America while lecturing poor people about how they shouldn't commit crimes.
The other thing about going balls-out in the imagination stakes is that it means creating antagonists who can also operate on that level. Again, this is something some writers see as a constraint (they really wanted to make that car thief the bad guy) and I see as an opportunity, because it means the power levels cancel out and put the focus on personality. When that playing field is leavened – or, more correctly, equally heightened – what carries the day is not physical power but courage, determination and humanity. Superman doesn't win because he is strong; he wins because he is brave, kind, inspirational and selfless. He wins because of that simplistic morality that is the other major complaint about the character, because the heart is the most powerful muscle of all.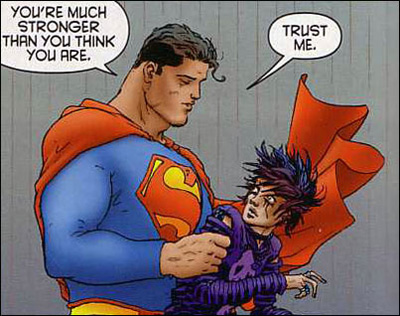 And here's the thing about 'simplistic morality' – fuck your cynicism, human goodness is real.
Yes, we are flawed, but we can work to overcome those flaws, and we do so every day. I see people striving to help others every day, in whatever way they can – and for most of us those are small ways, sure, but we still try. We can be terrible to each other, but we don't have to be. And in Superman – in the lightning that Siegel and Shuster captured in 1938 – we can imagine what simple human goodness could do if given the ability to act. Superman does not refute the notion that power corrupts; he refutes the notion that power must corrupt.
Some people think that's old-fashioned. I think it's beautiful.
Certainly there is room for that moral strength to be tested – that, in the end, is the most exciting part of any conflict involving Superman, because exploding suns are all well and good but we need something human to connect to. The point is, though, that there's a difference between it being questioned and being subverted or mocked; between it being a source of conflict or a source of failure. Stories where Superman wonders whether torture can be justified (the animated feature Superman vs the Elite), where Jonathan Kent hires a branding consultant to design the S-shield (Superman: Earth One) or where his power alienates him from humanity and makes him feel superior (Kill Bill, of all things) utterly miss the point of the character. Superman gives us something utterly human to aspire to; he tells us that goodness can come from our genes, our upbringing or our innate character. That humanity is not something to be overcome, despite what Nietzsche said.
—
Alright, enough of my ranting and italics. Where does this get us?
Well, if we work from these principles, we can see that Superman stories should embrace the impossible, putting him at the start into situations no normal person could survive or perhaps even understand. He's not blase or jaded by the situation, but nor is he cowed. His powers let him engage with those impossible situations, while his moral strength allows him to overcome the conflict facing him – the alchemical wedding of Super and Man.
For my money, the perfect Superman story that illustrates all of this is not All-Star Superman, although that is one of the finest Superman stories ever told; it gets everything right, but puts too much of its focus on other characters and situations. Instead, I'd like to nominate another Grant Morrison piece, Superman Beyond, a tie-in to the unfairly maligned Final Crisis.
In it, Superman is recruited by the interdimensional Monitors of Nil to battle a threat that could end the entire multiverse. But the Monitors' bleedship crashes in Limbo, a wasteland between realities populated by forgotten superheroes, a place where stories go to die. When Mandrakk, the Dark Monitor, comes to tear Limbo apart and destroy all realities, Superman rallies the forgotten heroes to fight back while he travels outside reality to the Monitors' home. There he takes control of a giant thought-robot to fight Mandrakk, unleashing the conceptual power of his own story to overcome the metatextual erasure of reality, finally casting the vampire Monitor into the Overvoid before flying back to his own reality with a single drop of infinite energy in his mouth that he uses to save Lois Lane's life.
That probably all sounds a bit crazy put like that, and it must be said that coherency is not a hallmark of Final Crisis, but the majestic inventiveness and scale of the story make it wonderful. It's a story where Superman must battle threats not just to humanity or one universe but to the very concept of universes, where he has to accept the idea that his life and everything he knows is on some level fictional but still worth fighting for, where he needs to place faith in alternate universe versions of himself (even in the evil one), and where in the end he is motivated to give it everything he has by his love for his wife.
Also, parts of the story were in 3D, special glasses and all.
Fuck. Yeah.
That's how you write Superman,
—
Look, I've been talking in the specific about Superman here, but in the end this all applies to any powerful or competent character. Actually, strike that – it applies to any character, at least one interesting enough to write about. Because it's always important to ask the right questions when writing about conflicts, and it's always important to let the character's personality be involved in how that conflict plays out. It's just that it's easier to expound at length (great, great length) on those points when I have a blue-and-red example to attach to them.
So take three axioms from this:
Any character trait, negative or positive, can be used to shape the parameters of a conflict.
Any character trait, negative or positive, can be used to shape the outcome of a conflict.
You can (and probably should) use completely different traits to shape parameters and outcome.
And those apply to heat vision, intellect, juggling skill or just particularly tight pants.
Or indeed no pants. Let's see Superman fight that.