Okay folks, I know I've been slack on the posts lately, but this week has been CRAY CRAY and I have to shoot up to QLD tomorrow morning for meetings and liquor and stuff. There'll be a long post on Sunday – well, probably – well, maybe – but I don't have time to finish it tonight.
So as Superhero Month slouches towards Bethlehem, here's a very, very quick roundup of six superheroic things you should check out if you haven't already.
Hitman: The last volume of Ennis and McCrea's DC series from the nineties finally got released this month. Hitman was one of DC's best – a smart, funny, moving tribute to hitman movies and stories with occasional appearances by zombie penguins. If the ending doesn't make you cry then you are a soulless monster.
Top Ten: Alan Moore proved that despite being a hairy pessimistic curmudgeon with no faith in human nature, he could still write one of the most fun, engaging superhero stories ever, the story of a precinct of super-cops in an impossible cross-genre city populated solely by superheroes. And Gene Ha's art is, as ever, incredible.
The Marvels Project: This side project from the Captain America team of Ed Brubaker and Steve Epting explored Marvel's World War II history, with equal parts retelling of existing tales and bringing in new ideas. It's a nice, thrillerish take that still has room to be a stirring war story, and I do love me some Angel (not the X-Men one, the cool vigilante with a moustache one).
Knight and Squire: The side characters from Grant Morrison's Batman stories get their own miniseries collection, showing a very British side to the DC Universe that's mostly built on 1970s pop culture references and jokes that Americans aren't supposed to get. But if you know about The Goodies and The Beano, then Paul Cornell and Jimmy Broxton have a great superhero comic for you.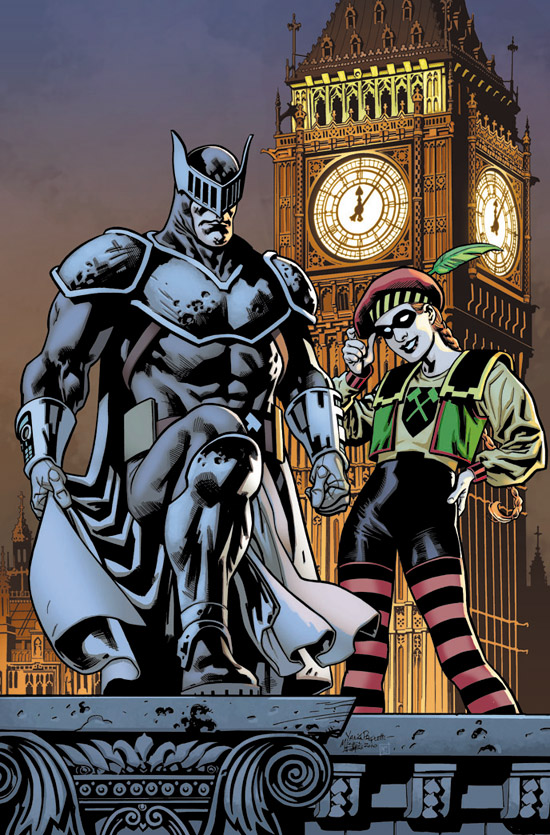 Seven Soldiers of Victory: What the DC Reboot should have been. A tour-de-force of mad ideas and ambition from Grant Morrison and various artists poking at all the corners of the superhero genre, and the way the world can reshape itself around them, to stitch together a patchwork quilt of awesome. Frankenstein lives.
Avengers: Earth's Mightiest Heroes: I'm finally getting around to buying this cartoon series on DVD, having seen a handful of really engaging episodes the last time I was in the US. Looking forward to it.
—
Also, as an aside, you can find me on the Read@UTS blog right now, talking with Sean Riley and author Pam Newton about detective and crime stories. This was a super-fun interview and it helped me sort a few things out in my head about the genre. Go check it out!
And with that, I gotta go pack.