Things what I have done thus far in this year of our Lord 2016
Gone back to work. Which is something taking up a lot of my focus and energy right now, but – crucially – not all of it.
Played more Pandemic Legacy. Oh man, those poor folks in South America. They never asked for [CENSORED DUE TO SPOILERS BUT LEMME TELL YOU IT AIN'T GOOD].
Become kinda hooked on Parks and Recreation. Everyone was right, that first season was rough and mean and not funny. And everyone was right, the following seasons are SO GREAT YOU GUYS and I love all of them even Jerry and one time I got a bit teary watching it but it might have been because I hadn't slept in 36 hours but anyway it's great.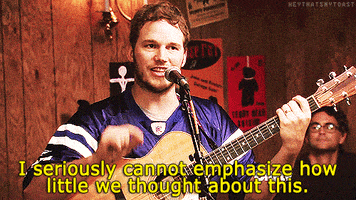 Committed to a program of walking 10 000 steps a day, as measured by my phone's pedometer. Okay, 'program' sounds more complicated that it needs to. I have a dog, I use public transport, I go to various meetings rooms at the office – by the end of the day it pretty much takes care of itself. But now I have an external driver, which is something that works well for me as a motivator to do things I was doing anyway.
Sheltered from the blazing sun.
Listened to a bunch of podcasts and also The Jezabels and Halsey on repeat.
Went to my first ever Android: Netrunner store tournament and got completely rofflestomped by people who actually know how to play it competitively instead of just casually with friends. Which is fine! Losing is about as much fun as winning, and a better way of learning how to play next time. But still, I'm going to have to do some heavy lifting before I get good at this game. Or even mediocre.
Took the dog for a haircut.
Went to the wedding reception of two lovely people that I hope move back to Australia sometime soon.
Formed a little writers' group with three other like-minded folks who are also writing YA and genre novels. We have our first actual meeting this weekend, which is mostly just brunch and chatting about what we want from the group. After that… we'll see. I'm hoping it's a way to help each other stay on target, improve our skills and generate those kind of external drivers I was talking about earlier.
Submitted Raven's Blood to a publisher – more, a publisher who actually asked to see it. That's a pretty sweet egoboo, believe you me, even if they eventually decide to pass on it. It's weird and confusing and gratifying and nice when people know who I am. Even more when that's a positive.
Read The Accidental Creative, which is all about improving work practices to generate strong ideas and get things done. Some potentially useful ideas in there, for both my day and night jobs, so long as I can work out how to implement them. Thinking about that at the moment.
Mourned. As did we all.
Things what I have not done thus far in etc etc
Enough work on Raven's Bones.
But that will change.